SURVEY SAYS
A new Gallup poll on American attitudes toward Vladimir Putin has sent the commentariat into a tizzy. According to the latest data, Putin's favorability is on the rise, largely thanks to changing Republican views of the Russian President:
Americans see Russian President Vladimir Putin in a better light than two years ago. Twenty-two percent now say they have a favorable opinion of Putin, up from 13% in 2015 and the highest percentage with a favorable view of the Russian leader since 2003. His unfavorable rating is unchanged at 72%, while fewer Americans say they have no opinion of him. […]
A major reason for the overall rise in Putin's favorable rating this year is Republicans' more positive views of the Russian leader, from 12% in 2015 to 32% today. […] Independents' opinions of Putin also have grown more positive in the last two years, but to a lesser extent than Republicans'.

There has already been some handwringing about the significance of the Gallup poll, with alarmist speculation that President Trump is overseeing a disturbing realignment among Republicans in favor of an authoritarian rival of the United States. To be fair, it certainly seems that the Trump effect is driving the trend: Trump's unusual affinity for the Russian President, and his campaign trail rhetoric about Putin being a stronger leader than Barack Obama, appears to have resonated with the Republican base and even some independents.
Nonetheless, there is good reason to be skeptical that the Gallup poll suggests any lasting ideological realignment. As Alina Polyakova and Peter Kreko wrote this past month, populists leaders' embrace of Putin, in both Europe and the United States, has hardly caused a widespread shift in underlying voter attitudes toward Russia:
The reality is that the majority of Trump voters (56 percent) still see Russia as an enemy of the United States, and yet these same voters supported a candidate who they believe sees Russia as a friend. In Europe, supporters of populist parties also tend to be rather anti-Russian, yet they too support self-proclaimed allies of Putin. Just as Trump won the presidential election in the U.S. despite his warm views on Russia, European pro-Russian political parties are rising at the same time that voters' opinions of Russia are falling. Indeed, the great irony of the populist wave sweeping across the Atlantic—represented by the likes of Marine Le Pen in France, UKIP in Great Britain—is that populist leaders' pro-Russian views do not reflect public opinion or even the attitudes of their supporters.
Despite the uptick in goodwill toward Putin, that dynamic still largely holds true. According to the new Gallup poll, only 28 percent of Americans view Russia favorably, while Putin's unfavorability rating remains notably unchanged at 72 percent. And the long-term trend since 2003 has been a steady rise in negative attitudes toward Putin: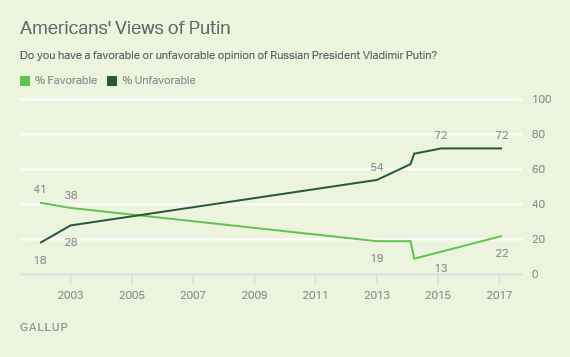 Seen in this context, Putin's Trump bump looks likely to be a momentary partisan reaction, not a long-term embrace of Putinism. And if Trump's efforts to repair ties with Russia remain as beset by difficulties as the early signs suggest, Putin's American approval numbers could come falling down once more.
---
Also see:
Trump Tells O'Reilly He 'Respects' Putin

Related Posts:
All content herein is owned by author exclusively. Expressed opinions are not necessarily the views of VNN, VNN authors, affiliates, advertisers, sponsors, partners, technicians or Veterans Today Network and its assigns. In addition, all images within this post are the full responsibility of the author and NOT Veterans Today Network.
Legal Notice
-
Comment Policy
Posted by
VTN
on February 22, 2017, With
0
Reads, Filed under
World
. You can follow any responses to this entry through the
RSS 2.0
. You can skip to the end and leave a response. Pinging is currently not allowed.